Anger Management in Bingham Farms MI
Heron Ridge Associates offers confidential anger management in Bingham Farms MI. We have several therapists on staff who specialize in anger management. When you contact our office, we will match you with the best provider for your specific needs.
You can discuss your struggles and find solutions for them based on your lifestyle/experiences. Every element of the program is personalized just for you.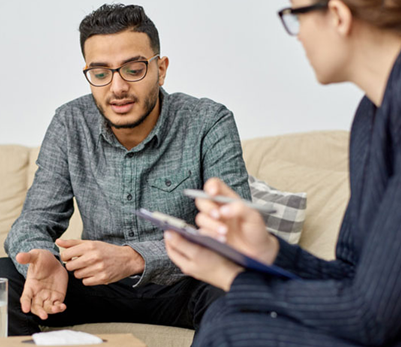 We accept many forms of insurance, including Blue Cross/Blue Shield of Michigan, Tricare, Total Healthcare, MESSA, Aetna, Cofinity, AARP, Behavioral Health Systems, Omnicare, Blue Care Network, United Healthcare, Health Alliance Plan (HAP), MEBS, Medicare, DMC Care, and other insurance plans. To schedule an appointment for anger management in Bingham Farms MI, call (248) 594-4991.
How Does Anger Management Therapy Work?
As with any therapy program, each person has a unique experience with anger management. The process involves a series of one-on-one conversations with a therapist. You will share your story to uncover the underlying issues contributing to your anger. Then your therapist will help you find coping strategies that work well for you.
Get Matched with a Licensed Therapist Who Specializes in Anger Management
Discuss Your Struggles in a Safe, Comfortable Setting
Your Privacy Is Protected by Strict Confidentiality Protocol
Your Therapist Provides Personal Advice Based on Your Lifestyle, Experiences, Symptoms, Triggers, and Other Factors
Get the Positive Support You Deserve
Find Coping Strategies for Depression, Stress and Anxiety
Bring Closure to Past Traumas That Contribute to Anger
Receive Comprehensive Mental Healthcare from a Therapist You Can Trust
Contact us at (248) 594-4991 to learn more about anger management in Bingham Farms MI.
Confidential Anger Management in a Judgement-Free Therapist Office
You will not be judged during your therapy sessions. Do not feel embarrassed about your struggles. We are here to help and support you. Our therapists abide by strict confidentiality protocols, so you never have to worry about your information being shared. We value your privacy and respect your integrity. Our office is located at:
Heron Ridge Associates
31000 Telegraph Rd #120
Bingham Farms, MI 48025
Heron Ridge Associates:
Ann Arbor: (734) 822-4810
Clarkston: (248) 693-8880
Ann Arbor: (734) 913-1093
Plymouth: (734) 454-1094
Bingham Farms: (248) 594-4991
Fill Out The Form Below And Click Submit