Amid this new year, we are given the opportunity to look within grow and evolve. There is excitement in the air, and most are eager to elicit change within themselves. What often happens though is people choose resolutions, instead of intentions, to work towards creating these positive shifts within. Unfortunately, individuals often fail when setting resolutions. The reason for this is the basic premise of a resolution – something is wrong with you, fix that and then your life will be better. Intentions instead, focus on what is already right within a person and how can that be harnessed more effectively.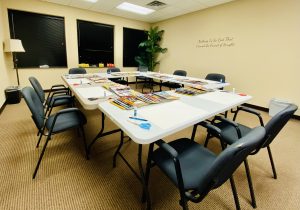 A small group gathered at the Stadium office in Ann Arbor on the first week of December to set their intentions for the new year. Vision boards were created in conjunction with this process, offering individuals a visual representation of their set intention. Individuals were able to share these vision boards with the group and then take them home as a reminder of what they were actively working towards manifesting within themselves. A participant from the group stated that the workshop helped her to "break up with the idea of a 'resolution' and instead have this more positively framed 'intention' for the new year."
While these groups are often conducted around the new year, they are also held throughout the year as well. The next intention setting workshop will be held on June 14th, 2022, from 6 pm to 8 pm at the
Stadium office in Ann Arbor. If there are any questions about this workshop or future workshops, please feel free to contact Alison Voisin at avoisin@refresh-mi.com
---
Alison Voisin received her master's degree in Rehabilitation and Mental Health Counseling through the University of South Florida. She has more than 15 years of professional experience working in mental health residential settings; with combat Veterans and their families; and now in private practice at Heron Ridge Associates. Alison is certified as an Experienced Registered Yoga Teacher (ERYT) and believes in the power of connecting mind and body when working with her clients. She is also master certified in Accelerated Resolution Therapy (ART) and is a certified ART trainer. Alison specializes in working with trauma, encouraging resilience and post-traumatic growth within her clients.