Teen Counseling in Ann Arbor MI
Teenagers don't always have it easy. What may be brushed off as teen angst or emotions may actually be depression, anxiety, body dysmorphia, or a similar underlying issues. Some teenagers struggle to adjust to the transition from childhood to adulthood. Others face immense pressure at school, at home and in their social lives.
What's the solution for all of this? Teen counseling. Through teen counseling in Ann Arbor, MI, teens can learn how to cope with emotions, traumatic events, peer pressure, bullying, and other issues in a healthy way.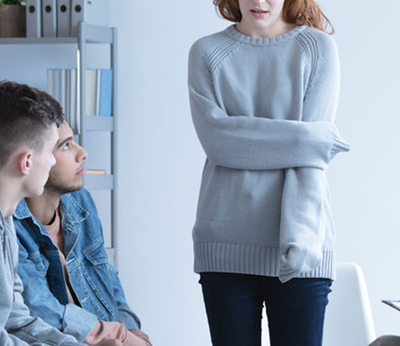 To schedule an appointment or to learn more, call (734) 913-1093.
Specialized Teen Counseling in Ann Arbor, MI
Heron Ridge Associates provides an array of specialized teen counseling services, including social media addiction treatment, ADHD treatment, teen depression counseling, teen anxiety counseling, grief counseling, eating disorder treatment, and much more. Our teen counselors equip teens with the tools to overcome obstacles on their own, improving their quality of life now and in the future. Some of the most common forms of teen counseling in Ann Arbor, MI include:
• Anxiety Treatment to Help Teenagers Overcome Phobias, Social Anxiety, Nervousness at School, and More
• Depression Counseling That Gets to the Root Cause of the Depression
• Grief Counseling for Teens after the Loss of a Loved One
• Self-Esteem Building and Confidence Counseling after Bullying
• Self-Harm Prevention, Including Tip for Parents
• Eating Disorder Treatment and Body Dysmorphia Treatment
• Adjustment Counseling for Teens Going through Difficult Life Transitions
• Therapy for Teens with Learning Disorders
• ADHD Counseling to Help Teens Improve Productivity in All Areas of Life
• Family Counseling to Create a Healthy Flow of Communication for the Family
• Conflict Resolution Strategies Specifically Designed for Each Teen's Lifestyle and Personality
To schedule an appointment for teen counseling in Ann Arbor, MI, call (734) 913-1093.
Confidential Therapy for the Whole Family
Some teens work well in individual counseling, while others thrive in family counseling. Some benefit from a combination of the two. We will help you find the right counseling setup for your family so your teen can get the most out of therapy.
All appointments are completely confidential, and they are covered under many insurance networks. Contact Heron Ridge Associates at (734) 913-1093 for more information.
Heron Ridge Associates:
Ann Arbor: (734) 822-4810
Clarkston: (248) 693-8880
Ann Arbor: (734) 913-1093
Plymouth: (734) 454-1094
Bingham Farms: (248) 594-4991
Fill Out The Form Below And Click Submit