Teen Counseling in Clarkston MI
If you are interested in teen counseling in Clarkston, MI, Heron Ridge Associates has a longstanding reputation in the community. Our teen counselors receive consistent referrals because they truly understand today's teens. From self-harm prevention to social media addiction counseling, our teen counseling services cover a range of situations. The sessions are completely confidential, so teens can speak out about their thoughts, fears and concerns. For more information or to schedule an appointment for teen counseling in Clarkston, MI, call (248) 693-8880.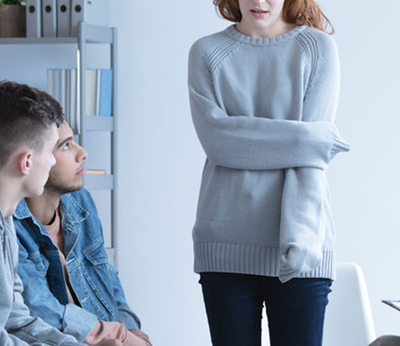 An Insurance-Friendly Counseling Center with Solutions for the Whole Family
Heron Ridge Associates works with many insurance networks to keep our therapy services as affordable as possible. We also provide many different counseling solutions, so your whole family can get the help they need. If you are having issues with your spouse, stress, work/life balance, sibling conflicts, and the like, we have a therapy program for you.
• Teen Counseling Specifically Designed for Today's Society
• Specialized Solutions for Social Media Addiction Treatment, Self-Harm Prevention, Eating Disorder Treatment, Self-Esteem Building, Stress Management, and More
• Evidence-Based Anxiety Treatment and Depression Counseling for Teens
• Child Counseling and Couples Counseling Available
• Experienced Teen Counselors Licensed in the State of Michigan
• A Comfortable and Confidential Therapist Office
• Therapists with High Referral Rates in Clarkston, MI
To learn more about teen counseling in Clarkston, MI, call (248) 693-8880. We will verify your insurance before your first appointment so you can know the exact cost of care. Our teen counselors receive consistent referrals, and our counseling center as a whole is highly rated. With Heron Ridge Associates, you always receive the superior mental healthcare you deserve.
Personalized Teen Counseling in Clarkston, MI
Every teen has unique needs. The counseling solutions that work for some may not work for others. That's why we provide personalized teen counseling in Clarkston, MI. Our counselors adjust their therapy techniques to fit each person individually. Teens not only learn how to overcome obstacles in their current life, but they also gain valuable tools to get through difficult transitions in the future.
Heron Ridge Associates:
Ann Arbor: (734) 822-4810
Clarkston: (248) 693-8880
Ann Arbor: (734) 913-1093
Plymouth: (734) 454-1094
Bingham Farms: (248) 594-4991
Fill Out The Form Below And Click Submit