Family Counseling in Michigan
Heron Ridge Associates offers many forms of family counseling in Michigan. We have solutions to suit your family's unique needs, including:
Marriage Counseling
Child Counseling and Teen Counseling
Blended Family Counseling
Co-Parenting Counseling
Premarital Counseling
Post-Divorce Counseling
Christian Counseling
And Other Family Counseling Services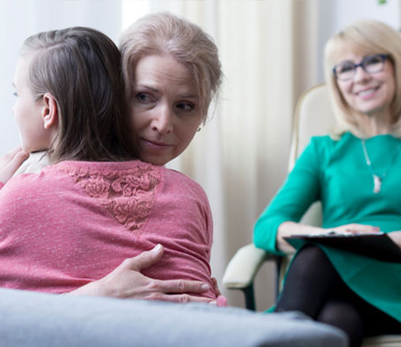 Whether you have a specific issue you would like to resolve or you want to improve your family bonds as a whole, our family counselors in Michigan are here to assist you. Contact us to schedule an appointment for family counseling.
Resolve Family Conflicts in a Confidential Setting
Family counseling focuses on two main objectives: resolve conflicts from the past and prevent new conflicts in the future. You and your family members will work one-on-one with an experienced therapist. Along the way, you can discuss your concerns, express your emotions, and improve your communication as a family. The process is completely confidential and your privacy is always protected.
With family counseling in Michigan, you can…
• Learn Valuable Communication Skills You Can All Use
• Gain a New Perspective on Family Conflicts
• Get to the Root of the Matter and Correct Family Issues at the Source
• Work on Your Marriage or Relationship to Reduce Tension in the Household
• Learn How to Balance Your Work Lives and Personal Lives
• Rebuild Bonds with Family Members and Keep Them Going Strong
Heron Ridge Associates provides blended family counseling, co-parenting counseling, family counseling after divorce, marriage counseling, and many other counseling services. Contact us to learn more about family counseling in Michigan.
Individual Counseling, Couples Counseling and Family Counseling in Michigan
Many of the families we serve use a combination of individual counseling and family counseling. Individual counseling provides the perfect platform for anxiety treatment, depression treatment, self-esteem building, grief counseling, and other counseling services. Working through these issues on an individual level can improve the relationships within the family. When you contact us, we can help you determine which therapy setup is right for you.
Heron Ridge Associates:
Ann Arbor: (734) 822-4810
Clarkston: (248) 693-8880
Ann Arbor: (734) 913-1093
Plymouth: (734) 454-1094
Bingham Farms: (248) 594-4991
Fill Out The Form Below And Click Submit