Marriage Counseling in Michigan
Whether you've been married for 50 days or 50 years, you've already faced a number of obstacles in your relationship. Every couple goes through disputes, disagreements and disappointments in their marriage. The key is knowing how to overcome those moments most effectively. At Heron Ridge Associates, we offer confidential marriage counseling in Michigan. We have several offices to serve you, all with marriage counselors on staff. Contact us to set up a couples counseling appointment.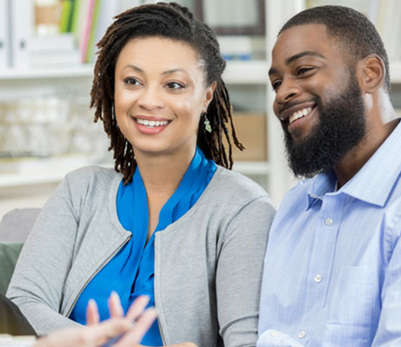 Confidential Marriage Counseling from Experienced Therapists
Marriage counseling is a personalized process. No two couples are exactly alike, so marriage counselors adjust their strategies to suit each couple's lifestyle and personality types. You may be seeking specialized marriage counseling in Michigan, such as premarital counseling, divorce prevention, or blended family counseling. We have experts on staff to assist you in those areas. During your private marriage counseling appointments, you will…
• Improve Your Communication Skills and Openly Discuss Your Feelings
• Get to the Root of Your Marital Issues
• Speak out in a Private, Confidential Environment
• Understand Your Spouse's Concerns and Learn How to Express Yours
• Bring Closure to Past Conflicts, Including Infidelity
• Use Individual Counseling to Supplement Your Marriage Counseling in Michigan (We Offer Depression Treatment, Anxiety Treatment, Anger Management and More)
• Get Paired with a Specialist – Premarital Counseling, Divorce Prevention, Blended Family Counseling, and Other Services
• Learn Personalized Solutions Fit for Your Lifestyle
To get started, contact us. We accept many forms of insurance, and we provide affordable pricing for individual counseling, family counseling and marriage counseling in Michigan.
An Upscale Source of Marriage Counseling in Michigan
Heron Ridge Associates is a highly rated counseling center with multiple locations in Michigan. We are proud to work with coupes in Ann Arbor MI, Clarkston MI, Bingham Farms MI, Plymouth MI, and surrounding areas. We receive many referrals for marriage counseling in Michigan because of our commitment to privacy, integrity, and top-quality mental healthcare. You can experience this for yourself by calling Heron Ridge Associates.
Heron Ridge Associates:
Ann Arbor: (734) 822-4810
Clarkston: (248) 693-8880
Ann Arbor: (734) 913-1093
Plymouth: (734) 454-1094
Bingham Farms: (248) 594-4991
Fill Out The Form Below And Click Submit