Teen Counseling in Bingham Farms MI
Has your teenager recently struggled in school? Have you noticed an unexpected change in behavior? Do you have ongoing family conflicts that seem difficult to solve? These are just some of the reasons you may consider teen counseling in Bingham Farms, MI.
Heron Ridge Associates provides personalized and confidential teen counseling in Bingham Farms, MI and surrounding areas. We work with many insurance providers in the area, and our counselors are all licensed in the state of Michigan. To learn more about our programs, call (248) 594-4991 to reach our Bingham Farms therapist office.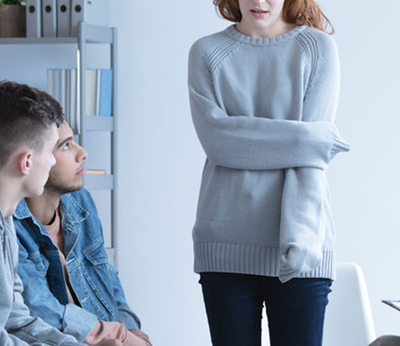 What Is the Goal of Teen Counseling?
As teenagers transition from childhood to adulthood, many struggle with pressures in their lives. This could be anything from conflicts at home to stress at school to peer pressure and beyond. Teen counseling works to address these issues so teens can enjoy a happy and fulfilling life. In this process, we aim to…
• Get to the Root of Anxiety, Depression, and Other Issues Teens Face
• Find Coping Strategies That Work for the Teen's Lifestyle and Personality
• Resolve Conflicts between Family Members
• Bring Closure to Past Traumas and Learn How to Cope with Their After-Effects
• Overcome Issues with Social Anxiety and Develop a Strong Support System
• Talk about Thoughts, Feelings and Personal Concerns in a Confidential Environment
• Boost Self-Esteem and Prevent Self-Harm
• Reverse Negative Thought Patterns That Make Depression Worse
• Find the Cause of Academic Issues (Psychological Testing Available)
If you are interested in teen counseling in Bingham Farms, MI, contact Heron Ridge Associates at (248) 594-4991.
Affordable and Confidential Teen Counseling in Bingham Farms, MI
Teen counseling should be accessible, affordable, and tailored to suit your child's needs. That is what we provide here at Heron Ridge Associates. We work with many insurance networks to lower your out-of-pocket expenses. These include: Aetna, Blue Cross/Blue Shield of Michigan, Behavioral Health Systems, DMC Care, Omnicare, MEBS, Blue Care Network, Medicare, AARP, Cofinity, MESSA, Health Alliance Plan (HAP), United Healthcare, Tricare, Total Healthcare, and other insurance providers. You may get a quote for teen counseling in Bingham Farms, MI by calling our therapist office.
Heron Ridge Associates:
Ann Arbor: (734) 822-4810
Clarkston: (248) 693-8880
Ann Arbor: (734) 913-1093
Plymouth: (734) 454-1094
Bingham Farms: (248) 594-4991
Fill Out The Form Below And Click Submit