Teen Counseling in Michigan
Teen counseling – what is it and how can it help my child? These are questions we hear from many parents in Michigan. Teenagers face a range of pressures in their daily lives, and some experience difficulty during the adjustment. Teen counseling is a personalized process that gives them the tools they need to improve their life.
Heron Ridge Associates is a proud provider of teen counseling in Michigan. We have several locations to choose from, and we have experienced teen counselors on staff at each location.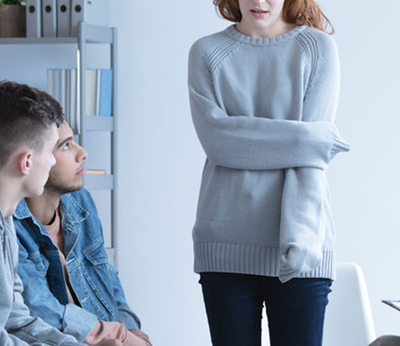 We pair each teen with the best counselor for his or her needs, and we provide transparent pricing that parents trust. For more information or to schedule an appointment for teen counseling in Michigan, call an office.
Get to the Root of Academic and Personal Issues
Teenagers do not always express their feelings. Instead, parents may notice a sudden change in behavior, such as social isolation or a drop in grades. In all of our counseling programs, we aim to get to the root of the issues. The best way to overcome depression, anxiety, and other mental health struggles is by conquering them at the source.
Through teen counseling in Michigan, you can…
• Resolve Family Conflicts That Create Stress in Everyday Life
• Overcome Instances of Bullying, Verbal Abuse, Emotional Abuse, and More
• Find the Source of Academic Struggles
• Get Psychological Testing for Teens to Diagnose Learning Disabilities, ADHD, Anxiety, Depression, and More
• Learn Coping Mechanisms That Are Tailored to Suit Each Person's Needs and Lifestyle
• Work with a Licensed Teen Counselor Who Understands Today's Teens
• Get Affordable Teen Counseling in Michigan, Covered by Many Insurance Plans
The journey starts with a confidential phone call to Heron Ridge Associates. You may contact us to learn more about teen counseling in Michigan.
A Trusted Provider of Teen Counseling in Michigan
Heron Ridge Associates is a highly-rated counseling center with strong referral relationships. We are known for providing top-quality child counseling, family counseling, couples counseling and teen counseling in Michigan. All of our therapists have a master's degree or higher, and they have years of professional experience. Many of our counselors stay with us until retirement because they love the atmosphere of our counseling centers in Michigan. Give us a call to meet with a licensed teen counselor near you.
Heron Ridge Associates:
Ann Arbor: (734) 822-4810
Clarkston: (248) 693-8880
Ann Arbor: (734) 913-1093
Plymouth: (734) 454-1094
Bingham Farms: (248) 594-4991
Fill Out The Form Below And Click Submit