Teen Counseling in Plymouth MI
Today's teens face a range of pressures – at school, at home, online, with friends, and in many other areas of their lives. Not only are they figuring out who they want to be, but they're also navigating the difficult transition from childhood to adulthood. Some teens need a little extra help to get through this transition.
That's where teen counseling comes in. With teen counseling in Plymouth, MI, each teen can work with a therapist to overcome obstacles in his or her life.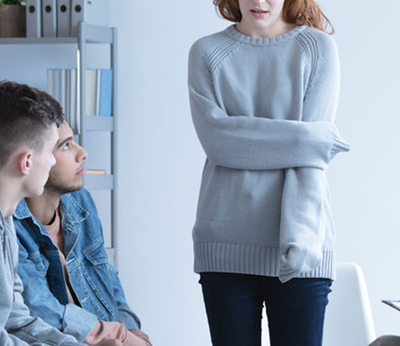 The process is completely personalized, so teens can find solutions that fit their lifestyle and personality. For more information about teen counseling in Plymouth, MI, call Heron Ridge Associates at (734) 454-1094.
Highly-Rated Teen Counseling in Plymouth, MI
Our teen counselors have a strong reputation in the Plymouth community. They use evidence-based counseling solutions, and they truly care about their clients. All of our therapists have a master's degree or higher, and many of them have decades of professional experience. We receive consistent referrals for teen counseling in Plymouth, MI because of our commitment to quality care. With Heron Ridge Associates, you will get:
• Personalized Solutions for Each Teen
• Counseling Services for the Whole Family, Including Marriage Counseling and Child Counseling
• Experienced Teen Counselors with High Referral Rates
• Evidence-Based Therapy to Improve Communication Skills, Reduce Anxiety, Conquer Depression, and More
• Confidential Counseling in a Judgement-Free Environment
• Therapists That Teens Feel Comfortable around and Parents Trust
• Psychological Testing Available for Children, Teens and Adults
Contact our office at (734) 454-1094 to schedule a confidential appointment for teen counseling in Plymouth, MI.
Affordable Teen Counseling in Plymouth, MI
At Heron Ridge Associates, we believe quality mental health care should be affordable. That is why we work with many insurance networks to serve our clients. Many of our services are covered under insurance, including teen counseling in Plymouth, MI. Some of the most popular insurance providers in the area include: Behavioral Health Systems, AARP, Blue Cross/Blue Shield of Michigan, Health Alliance Plan (HAP), DMC Care, Blue Care Network, Medicare, Cofinity, Aetna, MESSA, MEBS, Omnicare, United Healthcare, Tricare, Total Healthcare, and more. View our complete list of accepted insurance networks for more information, or contact our counseling center in Plymouth, MI.
Heron Ridge Associates:
Ann Arbor: (734) 822-4810
Clarkston: (248) 693-8880
Ann Arbor: (734) 913-1093
Plymouth: (734) 454-1094
Bingham Farms: (248) 594-4991
Fill Out The Form Below And Click Submit